Immediate Release: Nexus Blue Smokehouse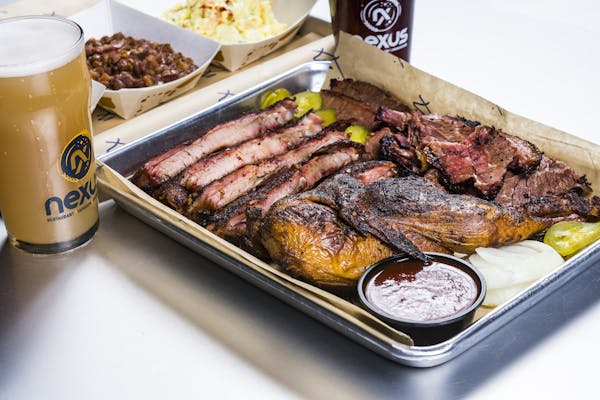 For Immediate Release
Contact Name: Ken Carson Jr
Phone: 505-480-4960
Email: Ken@nexusbrewery.com
NEXUS Brewery: The Next Generation
Combining A Pit BBQ Experience with a touch of NM Soul
Nexus Brewery and Restaurant, who is known for its unique twist on flavorful food and world cup award-winning beers begins it's a journey into BBQ and Smoked meats by opening a new restaurant in the South Broadway area called Nexus Blue Smokehouse which opens March 5th.
Located at 1511 Broadway SE, Nexus Blue Smokehouse will be the third location opened for Nexus Brewery since the first one in 2011. It is preceded by Nexus Brewery and Restaurant on I-25 and Montgomery and Nexus Silver Taproom off of I40 and Coors.
The NEW Nexus Blue Smokehouse is the New Mexican Soul Food destination. Their popular menu of chicken and waffles, fried catfish, crispy okra, fish tacos and of course freshly brewed Craft Beer, will now include New Mexican BBQ! On-site in their custom designed Pit room they will use aromatic New Mexican hardwoods from regional orchards such as hickory and pecan – a unique approach with exclusive recipes infused with New Mexican chiles and spices bringing exceptional flavor and richness only available from Nexus Blue. The custom-fabricated smokers slow-cook fine cuts of meat create unforgettable charred and juicy flavors
Ken Carson said "when we opened almost eight years ago; the intent was for Nexus to become a nice place to hang out, have great tasting beer and a limited menu with good food. Little did we know that our efforts would get us on Food Network's Dinners, Drive-ins and Dives with Guy Fieri. We are known more for our food and even non-beer drinkers come to us just for our food."
"Our goal with Nexus Blue Smokehouse is to become known for our great tasting Pit BBQ. Give us time, today we will compete in the BBQ scene, tomorrow we will be the best! We will earn our position over time. With customer and staff input we will develop a unique style of BBQ for the Albuquerque area that is second to none, customized for Albuquerque just like we did with Nexus Brewery"
Located in the historic Elks building on South Broadway, Carson envisioned repurposing the structure and bringing his New Mexican Soul Food to this familiar neighborhood. Fantastic wall murals conceived by interior designer Patti Hoech of PATRICIAN DESIGN are installed inside and out. These colorful art pieces are reminiscent of patchwork quilts representing the piecing together the many-faceted elements of his New Mexico heritage and Soulful Black roots. Albuquerque Artist Helen Atkins created the mosaic design and led the team which includes local youth from the South Broadway area; piecing and installing the work. Bob Ruth and his team with Sunbelt Properties remodeled the building.
Ken visited over 40 BBQ restaurants across the country. BBQ restaurants in Dallas and Austin being his favorites. "What I found in Texas was a desire to be traditional and smoke the meat with only wood and fire. I was also fascinated by the pit rooms at many of the BBQ restaurants; where customers could see the pits where the meat was barbecued. We built a pit room that currently has two very large BBQ pits that are fueled only by wood. The pits are adjacent to our patio and are visible to our patrons. Our BBQ is smoked with a traditional, reverse-flow smokers and we will use a combination of regional woods to include pecan, hickory, oak and mesquite. The meat will be cooked only with wood. Each piece individually cooked by our Pit Masters. No fancy machines; no short cuts. Ken noticed that the most famous BBQ places in the world use only wood with simple pits. More work, but well worth it.
The Next Generation also includes Nexus' intent to become a part of a neighborhood where the owner Ken Carson grew up on South Broadway. "We are proud of going back to our roots. My grandparents relocated from Oklahoma as former share croppers and brought my dad here in 1930. They both worked at the City holding pretty good jobs for African Americans at that time. Ken Carson Sr went to school at John Marshall Elementary, Lincoln Junior High and Albuquerque High School. Ken Sr was one of Albuquerque High's greatest football players back in his day. Ken Carson Jr attended St Francis Xavier School and John Marshall. We went to church in the South Broadway area even after we moved to the heights." We love this part of town which in some ways seems to have been forgotten. We want to make a positive impact on this part of Albuquerque. Bringing good jobs with benefits for all staff such as health insurance and dental along with Personal Time off for all staff members.
The newly remodeled building for Nexus Blue was formally owned but the Navajo Elks Lodge #863. The Navajo Elks are a national fraternal organization that have been organized in Albuquerque for the last 90 years. When the Navajo Elks decided it was time to down-size, they wanted the building to go to a black-owned business. The recreation center or club portion of the lodge provided not only a meeting place for its members, it was also a social club for members and locals for many years. The Elk's Club on Broadway was a happening place. The Elks Club was a place to socialize at a time when African Americans were not permitted to socialize in clubs in Albuquerque because of their race. The Navajo Elks Lodge in Albuquerque is and continues to be a strong fraternal organization. There are numerous Elks Clubs across the country who started in the early 1900's and still exist throughout the US.
The smokehouse in the Nexus logo has more meaning that just a generic smokehouse. After the business gets established, we plan to build a smokehouse on-site. The smokehouse on the logo is a rendition of a smokehouse on a plantation in North Carolina called the Green River Plantation where the Carsons are believed to have originated. "For some reason I have always been fascinated by smokehouses and this was way before I jumped into the restaurant industry; I wanted to build a smokehouse to make smoked meats like bacon, ham and smoked fish. The completion of the smokehouse will be the culmination of my unusual dream to make my own cold smoked meats. We hope to get the smokehouse going before the end of the year and to provide our very own house-made bacons, ham, and fish for our restaurants.
Hours of operation will start at 4 pm to 9 pm Monday thru Friday and 11 to 9 Saturday and Sunday during the month of March. Or until we run out of meat. In April we will extend our hours of operation to include lunch during the week and open every day at 11.